Welcome to the CLAS shop. This is where you can purchase catalogues from exhibitions, branded aprons and bags to show your CLAS love, and various calligraphy supplies.
Click on each image for further details.  
If you have a question, please email sales@clas.co.uk 
Due to the restrictions of operating under Covid  conditions please allow extra time for parcels to arrive. They are being processed as usual and posted regularly.
To ensure your parcel arrives safely we would advise using signed for/tracked postage as we are unable to replace items that go astray after they have been posted. This is available at an additional cost (please email for confirmation of costs).
Please note that in rare cases, if you are ordering a large number of items, we may need to increase our shipping charges slightly to cover any bulky items. We will email you following your order if this is necessary. 
NB: For orders of less than 5 nibs, please contact CLAS Sales before placing your order to discuss postage. 
Happy Shopping!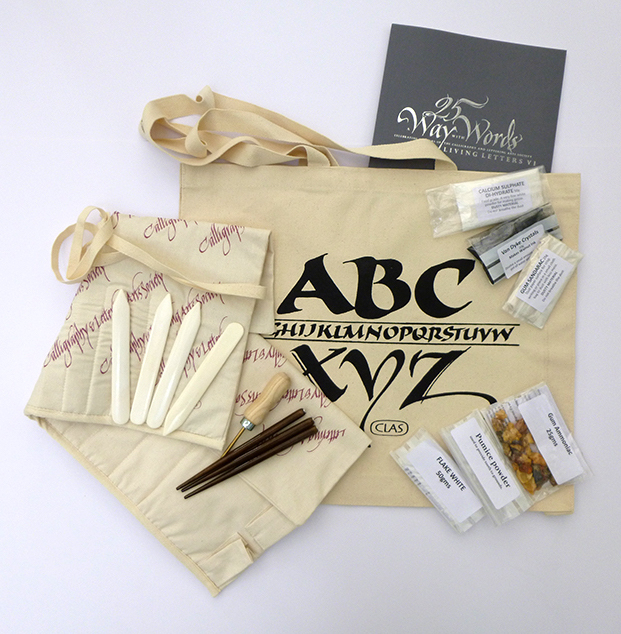 Non UK customers
As the UK finally left the European Union on 31 December, our European customers may now find they are subject to charges on packages received from the UK in the same way as on items from other countries outside the EU, eg USA etc etc.  Each country is subject to different rates and the fees may include duty, VAT and/or handling charges, depending on the value of the goods received and the carrier delivering the package.
Please be assured that these charges are not levied by us and we do not receive any of the monies.  We regret we cannot add these charges to your bill at the time you purchase from us, as they are added and payable once the package arrives in the receiving country.
We are unable to advise on what individual charges may be and recommend that you check with your own Government/carriers' websites prior to placing your order, so that you are prepared for any resulting requests for payment before your package is delivered.