copperplate special interest group
The hand we know as 'Copperplate' today was, in fact, called 'English Roundhand' in the 18th century, and it was originally written with an edged quill. It is no accident that the letterforms of Copperplate and Italic are not entirely dissimilar, as Copperplate descended directly from Italic, which itself emerged in Italy in the 16th century.
Although it would have been the ubiquitous handwriting style of the day, the father of the modern calligraphy movement, Edward Johnston, made no mention of Copperplate in his 1906 manual Writing and Illuminating and Lettering.  The students he taught therefore made no mention of it when they began to teach and so it went on until the style was pretty much disregarded by the calligraphy fraternity in the UK.
If it hadn't been for Jim Linwood's efforts to revive the style, Copperplate would almost certainly have fallen by the wayside. He started the Copperplate Special Interest Group (SIG) in 1995 with just eight members. 
Since 2005 the group has been organised by Joy Daniels and now counts a membership of 150 people worldwide, incorporating all ranges of ability.  They keep in touch with four newsletters per year, run an Envelope Exchange scheme as well as a mentoring scheme.  All members are invited to contribute their work to the yearly calendar project.
The Copperplate SIG is a friendly and inclusive group that welcomes new members.  Membership is £13 per year for UK members and £21 for overseas members and is open to anyone who has an interest in Copperplate.
Please contact Katy on copperplate@clas.co.uk for more information and to join the group.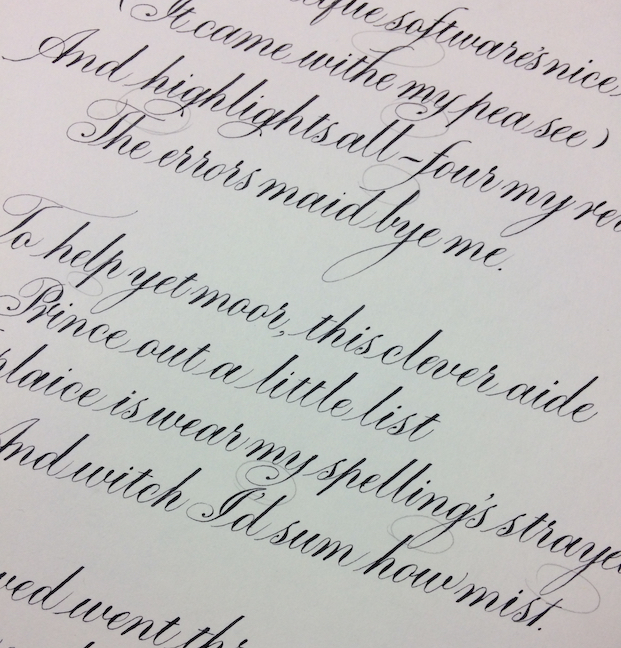 image courtesy of Jim Linwood