Deadline for registrations now extended until 24th February! 
The AGM 2022 will be held on SATURDAY, 5 MARCH 2022, from 10:15 – 16:00 at Regent's University London, Inner Circle, Regent's Park, London Nw14ns. We look forward to seeing you at this exciting event. If you're looking to view the digital exhibition, please  Click Here 
It will be an action-packed day including the following activities:
Afternoon Lecture: 'Learnings and Findings' with Ewan Clayton where he will discuss his collaboration with Ann Hechle on the Irene Wellington Educational Trust's latest publication.
Demonstrator: Toni Watts will be demonstrating her calligraphy and illumination skills.
Exhibitor: Sylvie Gokulsing will be sharing a display of small structures and will be available to discuss and answer your questions on how they were made and how she applied the lettering to suit each piece.  
Fellow in Residence: Barbara Alldred, FCLAS – 'Going Round in Circles' – Roundels, Spirals and Rotational Letter Patterns.
Art & the Letter 26th Hybrid Exhibition: Physical and digital entries will be on display.
CLAS Fellows' Exhibition: A display of work by our CLAS Fellows.
Brian G. Walker Calligraphy Display by daughters Nicky, Julie, and Sarah.
CLAS Help Desks: Seek advice on our academic activities, tutoring and more.
CLAS Sales: CLAS branded items and various calligraphy supplies.
Shepherds Bookbinders: Paper sales pop up shop.
Penman Direct: Sale of calligraphy and art materials.
Calligraphity: Calligraphy and lettering book sale.
<  Click here to view the draft programme and full details >
registration
The AGM morning session is limited to members only, but non-members and friends are invited to attend the other exciting activities throughout the day. For security reasons, all participants must register for the event and guest names must be provided. (NB: if you pass on your ticket to another CLAS member or have any difficulty registering please inform Sarah Walker at: agm@clas.co.uk).
Deadline for registration : EXTENDED UNTIL 24th February 2022
registration form details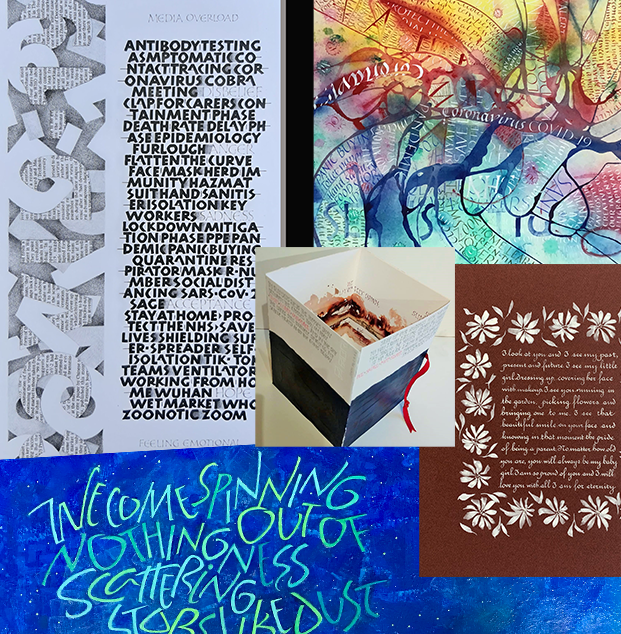 Image courtesy of Art and the Letter entrants from 2021
tickets and payment methods
Tickets cost £18 each
BANK TRANSFER
Ticket payments can be made via Bank Transfer (Ref.: AGM2022 and your full name):
CLAS Account: Sort code: 40-52-40   Account number: 00031828
PAYPAL/ CREDIT CARD
Click here to pay by credit or debit card via Paypal
CHEQUE
If you wish to pay by cheque, please contact our Treasurer via email: treasurer@clas.co.uk
members choice voting on the Art and the Letter hybrid exhibition
All CLAS members will have the opportunity to vote on the day of the AGM for their favourite Art & the Letter entry. CLAS members will be given a voting slip on the day of the AGM.
Voting on the digital exhibition entries will take place one week before the AGM. CLAS Members will be informed via email on the procedures on how to vote on the digital entries closer to the AGM date.
If it is not possible to hold the AGM at Regent's University due to Covid-19 restrictions, the event will be held online, and your registration fees will be reimbursed.