certificate of calligraphy 
CLAS Certificate of Calligraphy Assessment  –  Deadline date 30th April 2021
The April 2021 Assessment for the Certificate of Calligraphy will take place as normal, with a deadline date of 30th April – we look forward to receiving your entries. 
The CLAS Certificate of Calligraphy is the first level of assessment and certification on CLAS's Ladder of Progress.
The CLAS Certificate of Calligraphy is an opportunity to have work assessed by a CLAS Fellow or CLAS Accredited Tutor and is especially useful if you are starting out in calligraphy. However, this level of appraisal is open to anyone, of any level, who wishes to send in work for review. Membership of CLAS is encouraged, but not essential.
Entries will be individually assessed and marked and will include comments and suggested points for improvement to encourage your further advancement and enjoyment in calligraphy. Your work, along with the completed assessment form and your certificate, will be returned to you approximately eight weeks from the deadline date of entry.
It is not necessary to have a tutor to help you to send in work, although having a tutor who can give guidance and support is always valuable.
Deadline dates for the entries each year are 30th APRIL and 30th NOVEMBER. 
Rules of Entry for Certificate of Calligraphy 
Certificate of Calligraphy FAQs  
PAYMENTS
Please note that new Entry Fees apply from the April 2021 submission:  these new fees may be found on page 4 of the Certificate Rules of Entry leaflet.
Bank transfer- CAF Sort Code 40-52-40 Account 00031828
Cheques – pounds sterling made payable to CLAS or Calligraphy & Lettering Arts Society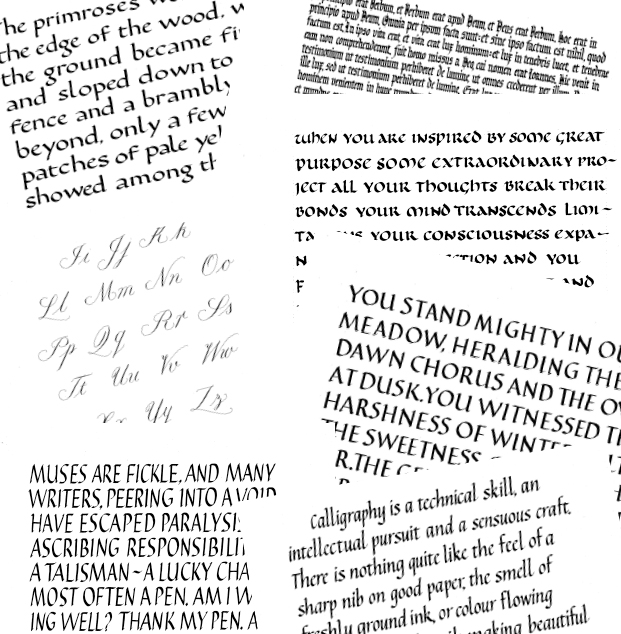 images courtesy of entrants to Certificate of Calligraphy
User's Guide to the Certificate of Calligraphy