national diploma in calligraphy 
The National Diploma of Calligraphy has been designed for CLAS members who are serious students of calligraphy in the Western tradition; to provide recognition of their achievement at three separate levels. These present comprehensive study regimes which build one upon the other, increasing in depth of knowledge and breadth of practical experience, offering a sound basis from which to develop a personal working approach and a portfolio of original artworks. It is not necessary to work through all three levels; candidates should enter at the appropriate level for their experience.
CLAS is committed to promoting the study, practice and teaching of western calligraphy in all its forms.  The Diploma is not a training course in itself, but to encourage and support its members on their calligraphy journey, CLAS has compiled an exclusive set of resources for diploma candidates. 
1) A gallery of example works at all three levels of the diploma and for each of the marking classifications – Pass, Merit and Distinction.
2) A list of mentors who are willing to give feedback and guidance to diploma candidates.
3) A list of courses that can support diploma preparation.
4) Videos – Diploma Administration, Script Analysis, Colour Mediums, Interpretation, What is meant by Trials / Work in progress and Two Students' Perspectives
5) Frequently Asked Questions.
Please see the links at the bottom of this page to access the handbooks for each of the National Diploma Levels – Foundation, Intermediate and Advanced.  These handbooks contain everything you need to know, including, relevant deadlines, what to submit for each module, how to package your work for assessment and how your work is assessed.  The handbooks also contain guidance and support.  Registration for the National Diploma must be made by 31 March in the year you intend to submit work.
Please note that the rules regarding weight of submissions and arrangements for payment of return postage have recently been updated.  Candidates should refer to this document for up to date information.
For the annual assessment you may submit the modules individually, in groups, or all at once. You may also repeat a module to improve marks. If you choose modular submission, you have a maximum of 3 years to submit all modules at Foundational Level, 4 years at Intermediate, and 5 years at Advanced Level.  For all levels, modules must be completed in numerical order, starting with Module 1, as each module builds on the previous one.
The National Diploma is open to CLAS members only. If you are not already a member (the Diploma fees do not include membership) please click here for more information: Become a member. For modular entries, you will need to be a member as of 31st March for all years in which you submit work for assessment.
The National Diploma was revised in 2021.  If you have already submitted some modules working to the previous syllabus, you should continue working to that syllabus.  Any queries about the old syllabus should be addressed to the Diploma Administrator: diploma@clas.co.uk
If you still have questions about the Diploma, please email diploma@clas.co.uk for assistance.
Entry Fees
Payment for assessment must be made by 31 March in the year of assessment.  Payment for the return of assessed work must be made after assessment has taken place, on receipt of an invoice from CLAS.
On enrolment
Foundation
Assessment: £60 (all modules in one year) or Modular £90 (submission over three years, paid in full the first year a module is submitted).
Re-assessment of a module: £20
Intermediate
Assessment: £80 (all modules in one year) or Modular £120 (submission over four years, paid in full the first year a module is submitted).
Re-assessment of a module: £25
Advanced
Assessment: £100 (all modules in one year) or Modular £150 (submission over five years, paid in full the first year a module is submitted).
Re-assessment of a module: £30
If you have any queries on the Diploma, please email diploma@clas.co.uk
General Information on Diploma
Withdrawal and Deferral Policy
Handbooks
Enrolment Forms
(these can be emailed to the Diploma Administrator at the email above) 
Payment
Bank transfer – CAF Sort Code 40-52-40 Account 00031828
Cheques – pounds sterling made payable to CLAS or Calligraphy & Lettering Arts Society
Payment can also be made online using PayPal via the CLAS shop (can be used by UK and non-UK residents)
If you are making a direct bank transfer from outside the UK, please be sure to add on the cost of any fees and charges made by your bank.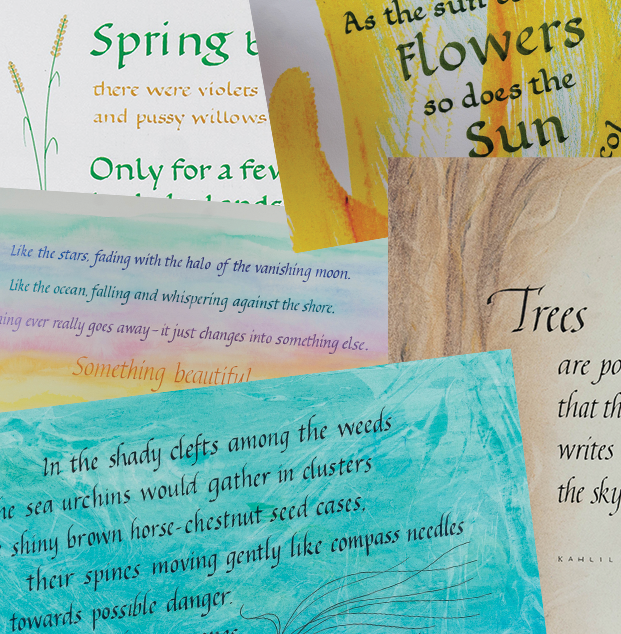 images courtesy of previous entrants to Diploma – Foundation level 
Copyright while studying for the Diploma
To use a copyright protected work you usually have to seek permission first.
While working towards the Diploma you may use copyright protected works in your studies, for example writing out quotations or referencing artworks in your essays.   Fair use is a part of copyright law that allows you to use such work without seeking permission of the copyright holder provided that it is solely for your own (non-commercial) studies and that the work you reproduce is properly acknowledged, credited and/or referenced.
CLAS may wish to display your Diploma work on our website or magazine.  In order to protect ourselves from copyright infringement, please make clear on your submissions whether they are copyright protected.
If you need more information about copyright, please check the government guidance at Intellectual property: Copyright – detailed information – GOV.UK (www.gov.uk)