benefits for members of the Calligraphy & Lettering Arts Society
Four issues of the Edge each year – our 32-36 page colour magazine (with occasional inserts on how to write calligraphic scripts)
CLASnews – our frequent e-mail newsletter to keep you in touch with news of the calligraphy and lettering arts world, including listings for workshops, courses and events

Discounted LiveOnline courses fees

D

iscounted Certificate of Calligraphy entry fees

Exclusive access to the National Diploma of Calligraphy

Free entry to the CLAS annual Art & the Letter exhibition, held at the AGM day
An invitation to enter work for the CLAS Living Letters exhibitions
Discounts on calligraphy items from L Cornelissen and Son (part of the AGM attendance package) 

 
Your annual subscription runs from the month you join
Overseas members pay a surcharge to cover airmail postage
subscription rates 
UK member = £40
Non-UK member = £50 (includes Air Mail surcharge of £10)  
25% discount to all first time members and under 30s 
special offer  (limited period) to new members  
L Cornelissen and Son Ltd www.cornelissen.com offer a discount (including p+p) to new CLAS members for a set of Schmincke Calligraphy Gouache paints (wooden box with 12 metallic tubes, 20 ml, instruction leaflet). Normal retail price £110. To take advantage of this once-in-a-lifetime offer please use the special Schmincke Calligraphy Gouache order form you receive with your joining pack.  
£85 plus p+p (£5 for UK and 

the actual postage cost applicable to individual countries outside the UK)
If you wish to make a donation please go to Shop Payments page.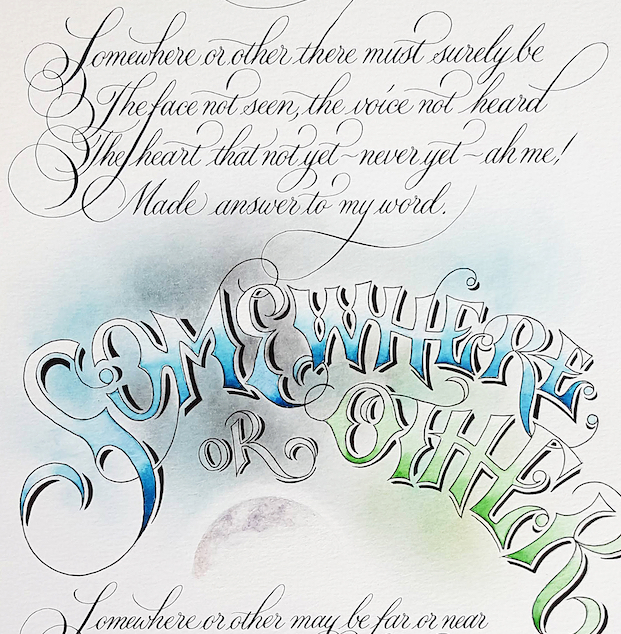 image courtesy of David Simons
new membership
Print out and complete this new membership application form (Once you've made the payment).
NB: If you wish to pay by Direct debit please follow this link https://pay.gocardless.com/AL00005V23FMV8  to set up a mandate. 
Fee payment for new or renewing membership
Direct Debit –you will receive an email notification from GoCardless, please follow the instructions.

If you do not renew by direct debit then:

do a bank transfer, (CAF 40-52-40 Account 00031828)
Credit/debit card pay using PayPal please click here
send a cheque to the membership secretary

Please include a reference with your payment, your membership number (if you know it), and your name.

For all other queries email membership@clas.co.uk
Alternatively you can write to the Membership Secretary:
  Meg Chapman
  9 Northview
  Maidstone
  Kent
  ME15 7UE