free beginners calligraphy correspondence course offer
** We have had a fantastic response to our free calligraphy correspondence course offer, and the places have now all been filled. 
We have had a lot of applications at once, so if you have received an email letting you know that you have been accepted you will be held on a waiting list for a little while so our tutors are not swamped and your work will have the individual attention that it needs **
CLAS is a registered charity that wants to encourage people to learn calligraphy.
We know calligraphy is popular, but we also know that many people would love to learn the skills but can't easily access a class.
If you or someone you know, has never done calligraphy and would like to begin learning  calligraphy with a broad edged nib (an italic or foundational script), CLAS is offering this very special introductory opportunity, but only for a limited period
*Free CALLIGRAPHY CORRESPONDENCE COURSES FOR BEGINNERS in 2020* (each WORTH £150.00)
We aim to introduce 50 new people to the art of calligraphy, by providing a 4-session distance learning course that people can participate in at home.  These courses will be run by professional CLAS tutors, who give feedback and help between each session by post or email.  The distance learning will be an introduction to one traditional broad edged nib script e.g. italic or foundational.   
This amazing offer will only be available from 1 January to 31 June 2020, for the first 50 students that apply.  Once all the limited places are taken or after 1 July 2020, the offer will close, so don't delay in applying.
Terms & Conditions
If you want to apply you should be a calligraphy beginner and you must be prepared to complete the course of 4 lessons in your own time.

Completing the 4 lessons should be within 6 months of starting the lessons.

 

You can apply for a place on this scheme by emailing liaison@clas.co.uk from the beginning of January 2020, giving your full name, email and postal address.

 

If your application is successful, you will be put in email contact with a named tutor to start your lessons
You will send your completed assignments to your named tutor for marking and feedback (You will need to pay your own postage costs to/from the tutor if you choose to post them rather than scanning and emailing)
If there is any difficulty in completing the course, you must notify liaison@clas.co.uk as soon as possible.

If you are not already a member of CLAS, this would be an ideal time to join and receive details of calligraphy events and groups near you and a subscription to the Edge magazine.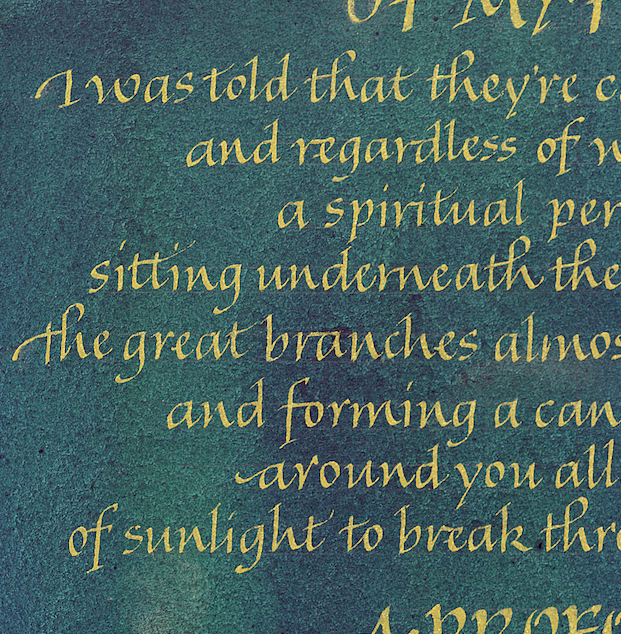 image courtesy of Dee Howley Gibbs