national diploma in calligraphy – foundation 
DIPLOMA UPDATE
Because of the difficulties surrounding the Covid-19 virus, the date for sending in work to be marked for the CLAS Diploma in 2020 has had to be delayed.
We are hoping to be able to book a date for marking during the week of October 19th-23rd.
Due to this delay the entry date has been extended from the end of March this year to August 31st and new entries for marking in 2020 would be welcomed. Entry forms should be sent by this date with payment and A5 Envelope to Cathy Stables, Diploma Administrator.
The new date for sending in work is between September 23rd – October 14th to arrive between these dates.
Work should be sent to:
Cathy Stables, 99 Stockbridge Rd, Chichester, PO19 8QW but this will be confirmed in early September.
The National Diploma is open to CLAS members only for assessments held from 2021. For modular entries, you will need to be a member for all years in which you submit work for assessment.
Work for the CLAS National Diploma in Calligraphy Foundation level is submitted in three modules. For the annual assessment you may submit the modules individually, in groups, or all at once. You may also repeat a module to improve marks. 
Entry Fees – CLAS members have a discount 
Foundation – Assessment: £60 (£75 non-members). Modular £90 (£105 non-members). 
Re-assessment of a module: £20 
Return postage must be added to the fee. The parcel must not weigh above 4kg 
UK £15, EU £36, all other countries £45 
If you send your work in modules over a period of years (maximum 5 years) you must pay the full fee the first year and then pay return postage each year that you send a parcel. 
Diploma Administrator details: Cathy Stables, 
99, Stockbridge Road, Chichester, West Sussex, PO19 8QW 
National Diploma in Calligraphy – Foundation level 
Module A, Analysis of a script
PAYMENTS 
Bank transfer- CAF Sort Code 40-52-40 Account 00031828
Cheques – pounds sterling made payable to CLAS or Calligraphy & Lettering Arts Society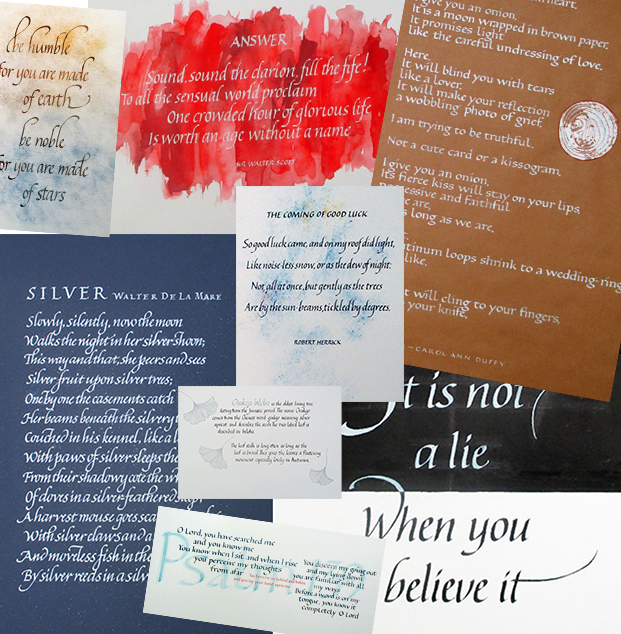 images courtesy of previous entrants to Diploma – Foundation level