national diploma in calligraphy – advanced  
DIPLOMA UPDATE
The National Diploma is open to CLAS members only for assessments held from 2021. 
For modular entries, you will need to be a member for all years in which you submit work for assessment.
Work for the CLAS National Diploma in Calligraphy Advanced level is submitted in five modules. For the annual assessment you may submit the modules individually, in groups, or all at once. You may also repeat a module to improve marks. 
Entry Fees – CLAS members have a discount 
Advanced – Assessment: £100 (all modules in one year). Modular £150 (submission over several years). 
Re-assessment of a module: £30 
Return postage must be added to the fee. The parcel must not weigh above 4kg 
UK £15, EU £36, all other countries £45 
If you send your work in modules over a period of years (maximum 5 years) you must pay the full fee the first year and then pay return postage each year that you send a parcel. 
Diploma Administrator details: Rebecca Osborne,
1 Frys Farmhouse, School Lane, Stedham, Midhurst, West Sussex GU29 0NY
Module A, Analysis of a script 
Outline of Advanced Diploma – module outlines and submission guide
PAYMENTS 
Bank transfer- CAF Sort Code 40-52-40 Account 00031828
Cheques – pounds sterling made payable to CLAS or Calligraphy & Lettering Arts Society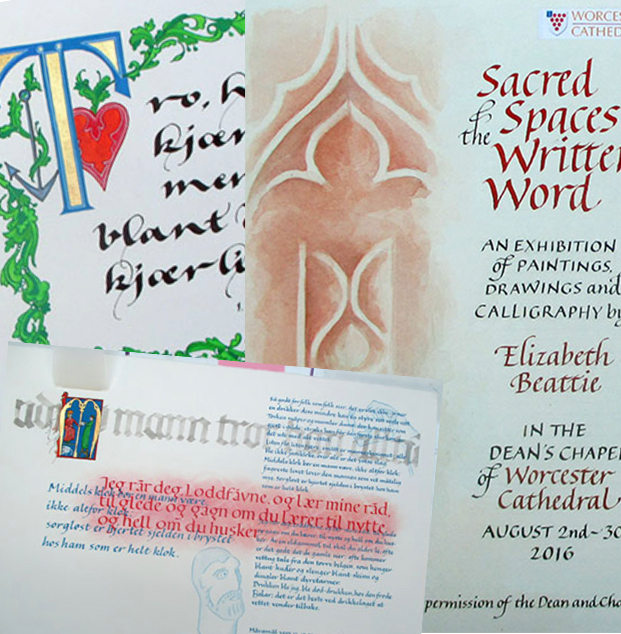 images courtesy of previous entrants to Diploma – Advanced Level