national diploma in calligraphy – advanced  
DIPLOMA UPDATE
If you've already started the previous Diploma, then continue with the original syllabus, guidelines and relevant support documents found on this page – submitting within the given time frame.
However, the New Diploma is available to enrol UP UNTIL 31st March 2021 for submission this summer, or if submitting by module – within 5 years, including this year for Foundation level. The new handbooks can be found here and each has integral support documents as appendices, rather than being separate downloads.  The fees remain the same.
For more information, please view our Frequently Asked Questions Page, if you still have any questions please contact the Diploma Administrator if you have any queries.
The National Diploma is open to CLAS members only for assessments held from 2021. For modular entries, you will need to be a member for all years in which you submit work for assessment.
Work for the CLAS National Diploma in Calligraphy Advanced level is submitted in five modules. For the annual assessment you may submit the modules individually, in groups, or all at once. You may also repeat a module to improve marks. 
Entry Fees – CLAS members have a discount.
Advanced – Assessment: £100 (all modules in one year). Modular £150 (submission over several years). 
Re-assessment of a module: £30 Return postage must be added to the fee. The parcel must not weigh above 5kg 
UK £15, EU £36, all other countries £45 
If you send your work in modules over a period of years (old version a maximum of 5 years, the new Diploma the same) you must pay the full fee the first year and then pay return postage each year that you send a parcel. 
Diploma Administrator details: Rebecca Osborne,
1 Frys Farmhouse, School Lane, Stedham, Midhurst, West Sussex GU29 0NY
If you have any queries on the Diploma, you can email CLAS at : diploma@clas.co.uk  
Downloadable Enrolment Form (this can be filled in and emailed to the Diploma Administrator to the email above).
Previous Downloadable PDFs: 
PAYMENTS 
Bank transfer- CAF Sort Code 40-52-40 Account 00031828
Cheques – pounds sterling made payable to CLAS or Calligraphy & Lettering Arts Society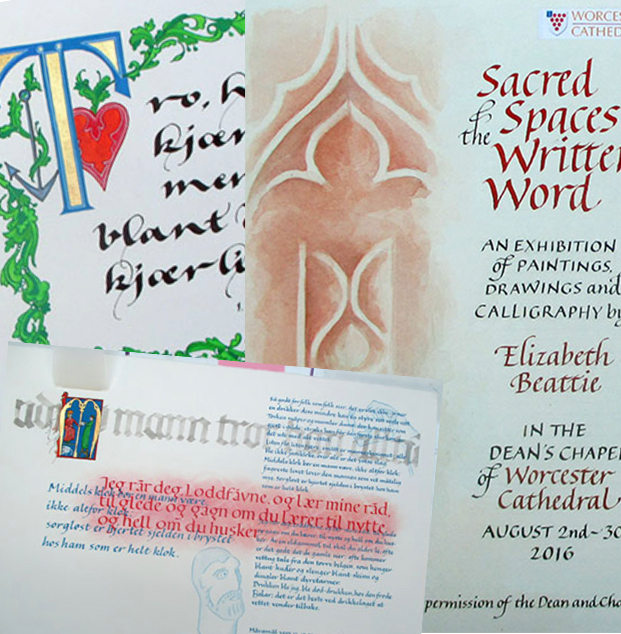 images courtesy of previous entrants to Diploma – Advanced Level
Copyright while studying for the Diploma
To use a copyright protected work you usually have to seek permission first.
While working towards the Diploma you may use copyright protected works in your studies, for example writing out quotations or referencing artworks in your essays.   Fair use is a part of copyright law that allows you to use such work without seeking permission of the copyright holder provided that it is solely for your own (non-commercial) studies and that the work you reproduce is properly acknowledged, credited and/or referenced.
CLAS may wish to display your Diploma work on our website or magazine.  In order to protect ourselves from copyright infringement, please make clear on your submissions whether they are copyright protected.
If you need more information about copyright, please check the government guidance at Intellectual property: Copyright – detailed information – GOV.UK (www.gov.uk)