The 2020 Art & the Letter entry form will be out in the August issue of the Edge. 
The Art & the Letter Exhibition is shown each year as part of the Calligraphy & Lettering Arts Society's AGM Day. Every member is encouraged to enter a piece of work, no matter what their standard. The submission of a piece is free and is open to all calligraphers and lettering artists. Topics are set the previous summer for a closing date usually in early spring. Each entry receives a comment from a team of renowned calligraphers. Calligraphers whose work is thought to be really special receive a special mention and are presented with a certificate. 
The 2019 Art & the Letter Exhibition was held at the CLAS AGM Day on Saturday, 9 March at the British Library Conference Centre. 
Forty entries this year, although only a few for the Year of the Pig category and for the excerpt from Salman Rushdie's Midnight's Children, those few were nicely interpretative. The Leonardo category was the favourite with Gold not far behind.  
Most Technically Skilled was jointly awarded to Simon Daniel and Attilio Medda. Both in the Leonardo category.
Most Exquisite was jointly awarded to Barbara Jupe for one of her boxes, to Valerie Dugan-Gray for her Illuminated letters, both in the Gold category and to Hilary Overton for her textile piece of Salman Rushdie. 
Most Luscious Lettering went to Olena Borolicova in the Gold category. 
Most Harmonious went to David Treagust in the Leonardo category. 
We awarded five Highly Commended certificates to Rebecca Osborne – Year of the Pig, Ann Mason – Salman Rushdie, Jane Hussey – Leonardo, Eva Boston – Leonardo and Elaine Gillingham – Gold. 
The Members' Choice clear winner was Attilio Medda.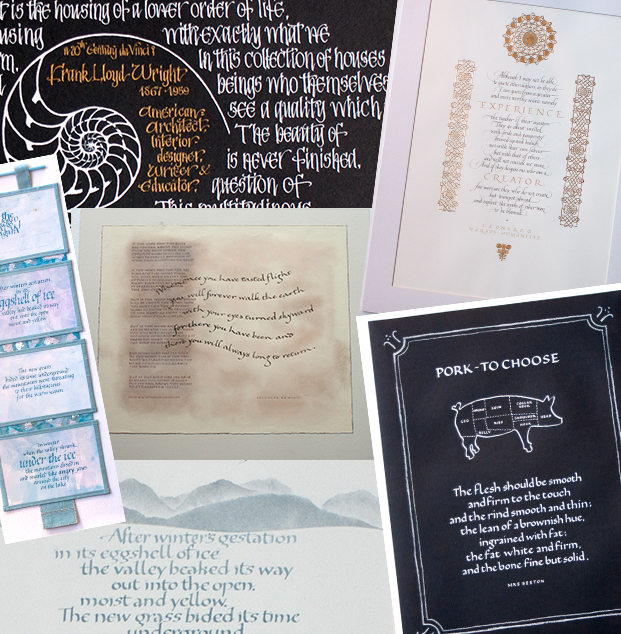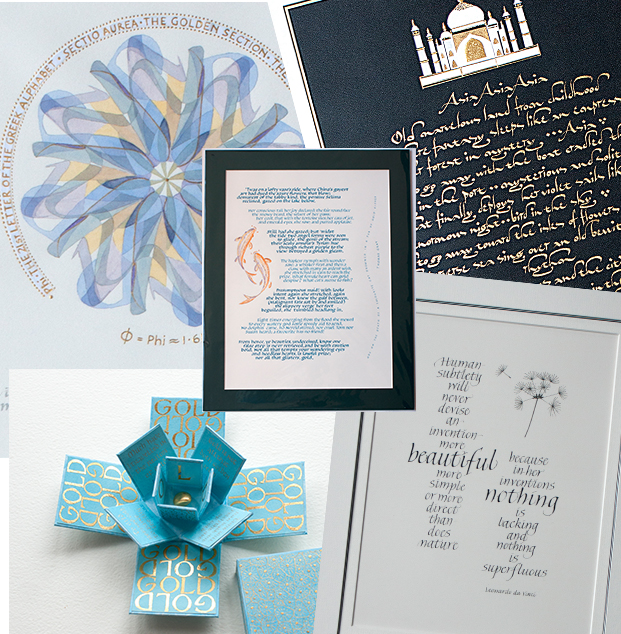 images courtesy of 2019 Art & the Letter Winners