Description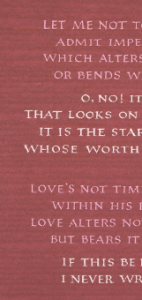 Tutor:  Margaret Morgan has been teaching at home and abroad (including Europe, USA and Japan) since 2002, but has been involved with letters calligraphic and typographic since being taught italic handwriting at school, followed by training in graphic design at art college. How capital letters are used, their adaptations and variations continue to be a fascination for her.
Content: All details, information on materials needed and exemplar sheets will be sent out prior to the course start.  Terms and Conditions for all courses are available here.
Session 1: You will not be expected to write along with the tutor, as you can view the recording after the class as many times as you like for 2 weeks.An outline of what to expect of the 2 sessions; an introduction to the script of choice and a demonstration of how to write each letter of the alphabet, plus questions and suggested homework for the following session.
Session 2: General feedback (not a critique, but tips and pointers for improvement), explanations about spacing and gaining good rhythm; how to layout the wording with suitable margins; and finally common mistakes and FAQs