A Guide to the Certificate of Calligraphy : Gothic
Certificate of Calligraphy : Gothic
2 x 2 hour zoom class on Gothic with Julia Baxter
Session 1 Saturday 10am to 12 noon 17th April 2021
Session 2 Saturday 10am to 12 noon 1st May 2021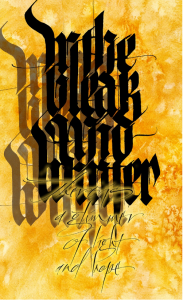 Tutor:  Julia Baxter is a professional calligrapher, artist, tutor and recently became a CLAS Fellow.  She also demonstrates as a medieval scribe and illuminator.  Her artworks are a visual expression of an interaction between the freedom of fine art and the discipline of a craft.
Content All details, information on materials needed and exemplar sheets will be sent out prior to the course start.  Terms and Conditions for all courses are available here.
Session 1:You will not be expected to write along with the tutor, as you can view the recording after the class as many times as you like for 2 weeks. An outline of what to expect of the 2 sessions; an introduction to the script of choice and a demonstration of how to write each letter of the alphabet, plus questions and suggested homework for the following session.
Session 2: General feedback (not a critique, but tips and pointers for improvement), explanations about spacing and gaining good rhythm; how to layout the wording with suitable margins; and finally common mistakes and FAQs
Additional information
| | |
| --- | --- |
| A Guide to the Certificate of Calligraphy : Gothic | Member of CLAS, Non-Member |